Weekend Pottery Workshops
Weekend pottery workshops can be booked around the year. Although it is anticipated that time constaints will probably restrict 'peak' seasons.

The workshops are open -
Saturday: 10.00 hrs. - 20.00 hrs.
Sunday: 10.00 hrs. - 16.30 hrs.

Supported hours
10.00 hrs. - 12.30 hrs. and 14.00 hrs. - 16.30 hrs.

Section diagram - sequencing turning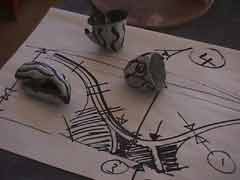 Your possible sixteen and a half hours of workshop access are divided between supported time and free (directed) access.

These programmes have been designed specifically to offer an opportunity for a wider local public from Barcelona to Perpignan to enjoy this clay experience.

PRICES:
250,00€ for residents of the workshop apartments.
400,00€ for non residents.

Plus - All materials/fired objects will be charged by weight when leaving the workshop. These costs are all clearly detailed in the workshop for scrutiny.