Taster Half Days
Taster half days, weekdays Mondays to Fridays only, have been timetabled into the workshop for two reasons; to allow an opportunity for those with uncertainty to explore a personal whim about their creativity with clay, and, for those with very limited time.

The half days can be morning or afternoon, with times running between: 9.30 hrs. - 12.30 hrs. or 15.00 hrs. - 18.00 hrs.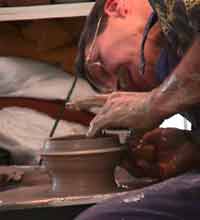 The half day will need to be booked. It is expected that by the quick nature of the half day workshop experience that bookings may be at short notice, hence their availability will need to best fit the calendar of activities for that day or any other day. Accepting this, a reservation is essential.

Within even these very short programmes the content will be discussed and understood to maximise the efficient use of the workshop facility and the expectations of the visiting potter student. As with all our programmes you will be introduced to good pottery workshop practices which assume necessary 'health & safety' standards particular to this workshop as well as the art.

This option will only be timetabled during periods of light workshop activity.

PRICE : 60,00€ per person / minimum three

Plus - All materials/fired objects will be charged by weight when leaving the workshop. These costs are all clearly detailed in the workshop for scrutiny.