One Day Pottery Access
During weekdays, Monday to Friday, the workshop can be booked for seven hours when there is availability. This full day option is in no way linked to other programmes which may be running concurrently.

The timetabled day runs between:
9.30 hrs. - 12.30 hrs. and: 14.00 hrs. - 18.00 hrs.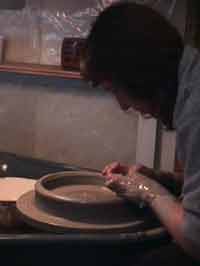 The day will need to be booked. The full day option will have it's content dicussed and understood to maximise the efficient use of the workshop facility and the expectations of the visiting potter student.

As with all our programmes you will be introduced to good pottery workshop practices which assume necessary 'health & safety' standards particular to this workshop as well as the art.

PRICE : 110,00€ per person

Plus - All materials/fired objects will be charged by weight when leaving the workshop. These costs are all clearly detailed in the workshop for scrutiny.