In the unique and welcoming French Catalan community of Prats-de-Mollo-La Preste, Mediterranean Pyrenees Holidays houses 11 renovated holiday apartments.

The splendour of seasonal changes in the surrounding mountains makes Prats-de-Mollo a wonderful place to visit any month of the year.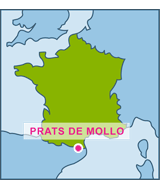 The village is located in the most southerly point of France just three kilometres from one of the few mountain crossing routes with Spain. It nestles one hour by car inland from the Mediterranean along the Tech river valley within the foothills and the slopes of the mighty Pic du Canigou.

A walk in any direction provides fertile ground for the interests of ramblers and bird watchers. Prats de Mollo Nature Reserve is just a short drive away along the highest road in the region and includes the Lammergeier amongst its 80 species of bird.

There are an inexhaustible number of activities and inactivities available: from sauna and massage to golf and tennis to paintballing and bungee to The Museum of Modern Art . The full range of events and things to do are listed in our features.

We look forward to welcoming you.