Rambling
"Some of best rambling we have found anywhere in Europe" were the words of a group of seasoned ramblers who visited Prats-de-Mollo.

There are 24 locals strolls and walks. They range between a leisurely one hour walk and a 9 hour mounting of the highest nearby peak, the Pic du Costabonne.

Have a look through the calendar and bird watching to get a good idea of the local flora and fauna to be found at different times of year.

From June to September there are planned walks to go on with the wardens of Prats de Mollo Nature Reserve . The wardens' English is limited but their knowledge of the area and its wildlife is second to none. If only to look where they are pointing, it is worth having them as your guide. They are also available any time of year to take expeditions by prior arrangement.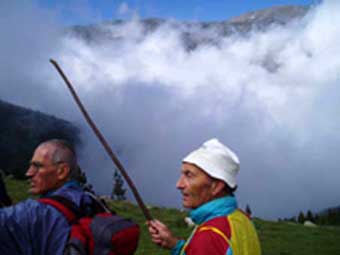 A translation of the 24 local walks, both the directions and the accompanying historical notes, has been completed in English. However, not all the walks have been done to confirm the accuracy of the translation!

Enough of the walks have been completed to gain an understanding of the variation in consistency of sign posting. In general, the shorter and mid distance walks are better sign posted than the long distance walks. All walks should be undertaken with a local ordinance survey map and compass along with the French walk sheets and their English translation.


A few links worth looking at:

If you are particularly interested in the flora of the area then feel free to take a look at the best local site we have found by clicking here

A local walking group, based 35 minutes down the valley, would also happily welcome you to join them. Please look through the diary section on their website

More local walks, in English and French, for the area around the next village of Arles-sur-Tech can be found here